The dBmap.net Noise Mapping Tool has been assessed using the international standard ISO-17534-3 titled:
"Acoustics – Software for the calculation of sound outdoors – Part 3: Recommendations for quality assured implementation of ISO-9613-2 in software according to ISO-17534-1" (https://www.iso.org/standard/66128.html)
Here are the results including links to the test cases so you can verify the calculations for yourself.
Quality Assurance Checklist
Below is a copy of "Table 71 – QA (Quality Assurance) form on ISO-9613-2:1996 including ISO/TR-17534-3 5.2 to 5.9"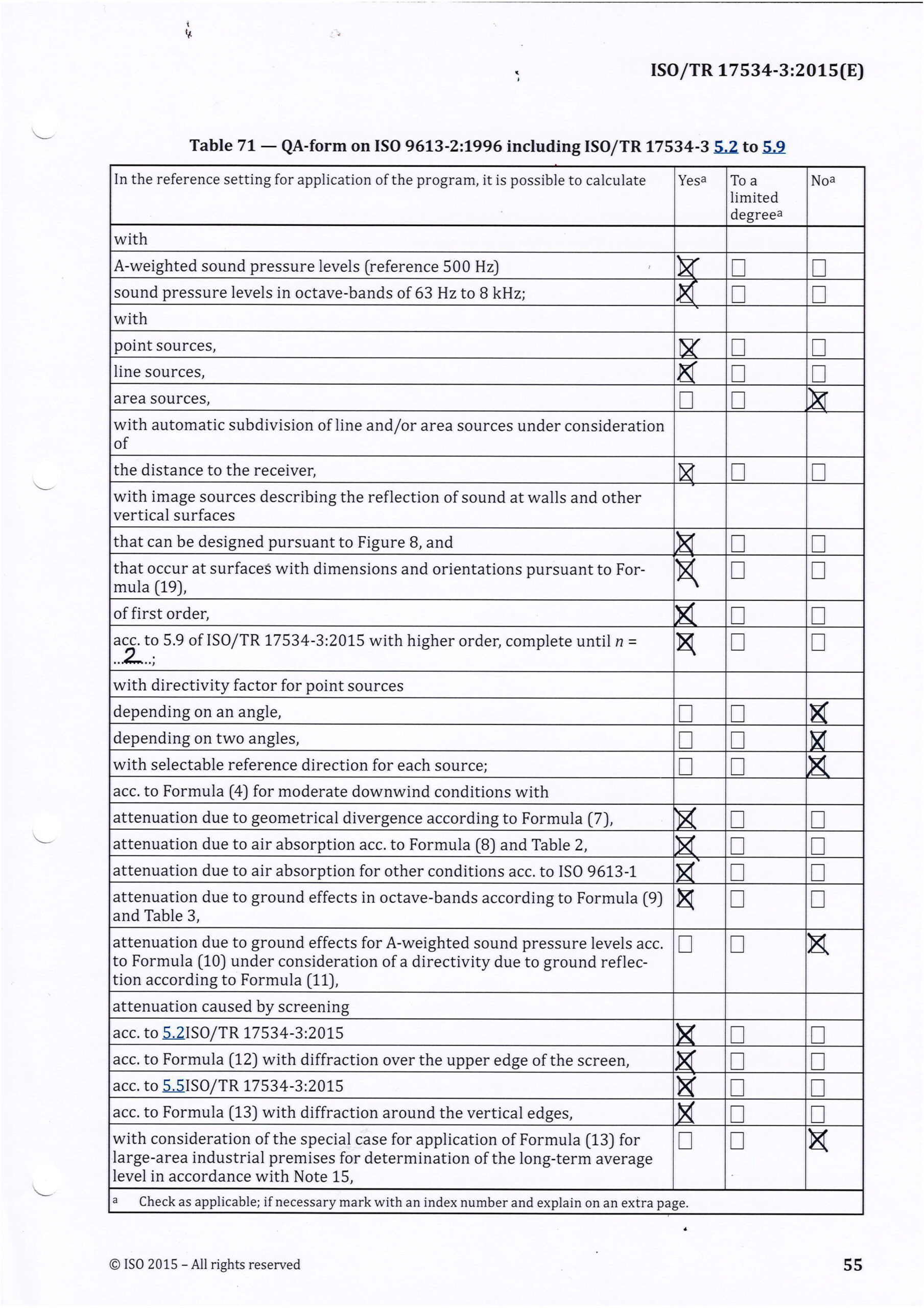 Please note: Some of the features above that are not yet supported are planned for future development.
Test Cases (Scenarios)
Below are some test cases from the ISO-17534-3 standard that you can verify for yourself.
Please note: The test cases that were not included required modelling areas of differing ground factor, which is not yet supported by the noise mapping tool.
All the test cases below are "homogeneous" in ground factor.
Scenario T11
Scenario T11 – "Flat ground with homogeneous acoustic properties and cubic building – receiver at low height"
Click here to load "Scenario T11" in the noise mapping tool
Results table for Scenario T11

---
Scenario T12
Scenario T12 – "Flat ground with homogeneous acoustic properties and cubic building – receiver at large height"
Click here to load "Scenario T12" in the noise mapping tool
Results table for Scenario T12

---
Scenario T13
Scenario T13 – "Flat ground with homogeneous acoustic properties and polygonal building – receiver at low height"
Click here to load "Scenario T13" in the noise mapping tool
Results table for Scenario T13

---
Scenario T15
Scenario T15 – "Flat ground with homogeneous acoustic properties and polygonal building – receiver at large height"
Click here to load "Scenario T15" in the noise mapping tool
Results table for Scenario T15

---
Scenario T16
Scenario T16 – "Flat ground with homogeneous acoustic properties and three buildings"
Click here to load "Scenario T16" in the noise mapping tool
Results table for Scenario T16

---
Scenario T17
Scenario T17 – "Flat ground with homogeneous acoustic properties and three buildings – alternative position of source and receiver"
Click here to load "Scenario T17" in the noise mapping tool
Results table for Scenario T17

---
Permission to reproduce extracts from British Standards is granted by BSI Standards Limited (BSI). No other use of this material is permitted. British Standards can be obtained in PDF or hard copy formats from the BSI online shop: www.bsigroup.com/Shop
Last updated April 2021